4/1/15
Have fun on April Fools Day!...
PROFESSOR LOUIE & THE CROWMATIX
"a tasty mix of rhythm and blues and rock & roll. Americana at it's best"
- Village Voice
Grammy nominated Professor Louie & The Crowmatix
were inducted into the
International Blues Hall Of Fame - New York Chapter
&
The Canada South Blues Hall of Fame.
Great concert events coming up - save the dates.
Professor Louie & The Crowmatix
will be performing at
The Turning Point and the Sellersville Theater in April. Check the Schedule for details. Buy tickets early - hope to see you there! PL&C

Professor Louie & the Crowmatix had a great time performing last weekend! A sold out show at the Snail Pie Lounge in Glenville, PA and then a wonderful time at The Lizzie Rose Music Room in Tuckerton, NJ - a beautiful venue. Thanks to Steve Webster, Derek and all the friends who came out to the concert at Snail Pie. Very special thanks to Lou & staff at Lizzie Rose Music Room - they made the evening a memorable event!
Hope to see you soon at one of our concerts! PL&C

Check out the Blog - Rock 'n' Roll Barn - CD Single from Professor Louie & The Crowmatix new CD Music From Hurley Mountain to be released in the spring.
See the list of some of the great artists who recorded at The Rock'n'Roll Barn.

Check out blog PL&C Soul Blues CD *****Review by Brian Robbins.

Read the Blog - PL&C with Al Jardine & Friends at the Rubin Museum, NYC and great review PL&C Wings On Fire CD/LP.
Wings On Fire CD has been released as a Vinyl LP.

Pick up a copy of the Professor Louie & The Crowmatix Soul Blues CD - a wonderful compilation of their best songs with horn sections. www.woodstockrecords.com

Professor Louie & The Crowmatix
Wings On Fire CD has been receiving rave reviews...
Professor Louie & The Crowmatix CD "Wings On Fire" was THE music highlight of 2012 for me - Congratulations! All the best of luck and joy now and in the days ahead! Ken Dashow - afternoon drive - Q104.3- NY's Only Classic Rock Station.
Another great review for PL&C's new CD Wings On Fire. Click below on Jambands to read review. JAMBANDS

Check out column on top right of this page and click on link of a Trip To The Moon which is on Youtube - short promo documentary of Professor Louie & The Crowmatix recording live in the studio an original soundtrack to 1902 movie by George Melies- A Trip To The Moon - Le Voyage Dans La Lune. This silent film and story is featur
Wings On Fire [6.05.2012]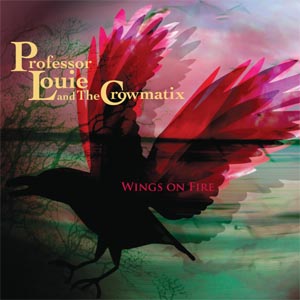 NOW AVAILABLE IN VINYL


Highest Quality Vinyl - ten great songs with a free Drop Card. Download the Drop Card and get the additional three songs from the original CD.
Check out this link
A Trip To The Moon
Upcoming Shows
---
Save the dates!
Professor Louie & The Crowmatix
Sat. April 11, 2015
THE TURNING POINT
Piermont, NY
Show: 8:30 PM
Wed. April 15th
SELLERSVILLE THEATER
Sellersville, PA
Show 7:30 PM
Hope to see you at one of these concert events! PL&C
---
---
1/6/2015
Rock'n'Roll Barn - CD Single
Professor Louie & The Crowmatix new CD Single
3/20/14
Soul Blues CD Review - Brian Robbins
2/24/14
PL&C with Al Jardine & Friends at Rubin Museum
Special Concert for the David Lynch Foundation & Transcendental Music